How to choose a kitchen knife
Select the best buddy for cooking
When you decide to buy a kitchen knife, what are your criteria? In order to choose a good kitchen knife, it is not enough to go to the sales floor vaguely. You have to think in advance what kind of thing you should choose. On this page, I briefly summarized what kind of kitchen knife and how to choose it. Please make good use of it as a unique knife that you use every day.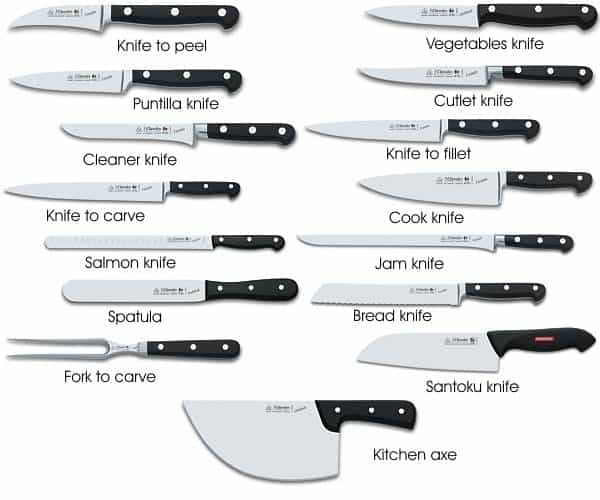 Where to buy
When buying a kitchen knife, it is best to buy it after receiving advice from a specialty store or a department store that has professionals with solid knowledge. This is because you can select the kitchen knife that seems best depending on your cooking method, cooking frequency, and cooking ingredients. It also has the advantage of solving daily troublesome problems such as maintenance if you have any problems or need to re-polish. However, in reality, there are not many such stores, and there are many stores that handle kitchen knives unequally. If you really want to pick it up after grasping it, you may find the nearest good store from the store introduction page, or you may be able to order it at a nearby store. Tojiro Co., Ltd. also provides warranty and re-sharpening services, so we can handle problems after purchase. However, please be sure to keep it in a safe place when using support, as you will need a receipt at the time of purchase and proof of purchase and an instruction manual.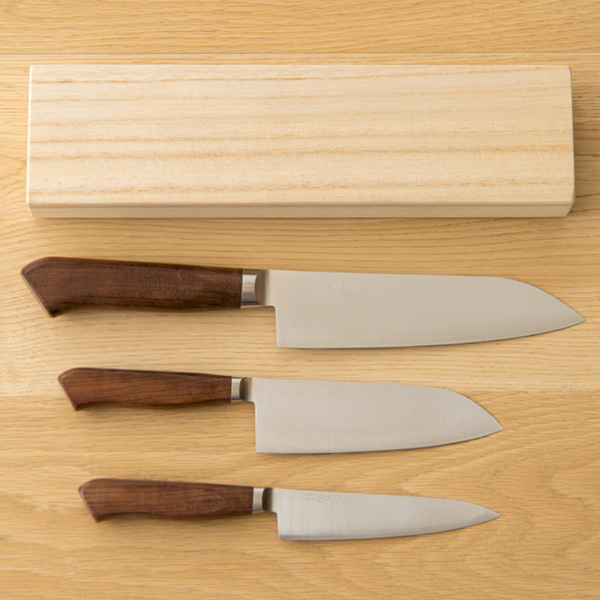 When choosing the first one
It is very difficult to choose the one that suits you from the various types. Especially if you buy it first. If you are a first-year student who has just started cooking, or if you want to prepare everything with a single knife, the Santoku knife or sword knife is a good knife. Santoku knife and beef knife can be used universally with meat, fish, vegetables and daily cooking. One thing to keep in mind, however, is that frozen foods cannot be cut. If you often cut frozen foods, prepare a freezing knife separately. In terms of size, it is recommended that the Santoku knife has a size of 150 mm to 180 mm, and the sword knife has a size of 180 mm to 210 mm.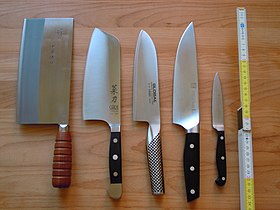 The material of the blade is explained in detail on the material science page, but it is best to choose a material that matches your application. If you can care for every day and want sharpness, you can use a "hagane-type" kitchen knife, if you want something that is rust-proof and easy to maintain, use "stainless-type" knives. If you select "material system", you can get both good care and sharpness. Ceramics are also suitable for people with light metal allergies, but be careful when handling as the blade tip is easily chipped. Then, based on the sharpness, comfort, and usability of the first one, you should step up and select the next one.
It may be one way to change cheap kitchen knives without maintenance, but considering a feeling about environmental problems and tools, you can spend a long time with a favorite one you carefully selected and troubled. Let's experience it.
Check points when picking up by hand
Recently, even at dealers, the display of kitchen knives has become strict due to safety considerations, but if you have the opportunity to actually pick it up at the store and choose a kitchen knife, check the points below that you should pay particular attention to. I will ask myself:
Is it the type that suits the purpose?
Is it the best size to use?
Whether there is no spills, small cracks or dents on the cutting edge.
Whether the blade is bent or not.
For the purpose and shape, it is best to see the mysterious page of shape, identify the cooking you often do, and select the kitchen knife that suits the purpose. If you choose the first choice, we recommend "Santoku knives" and "gyu sword knives" that can be used universally for various cooking.
The optimum dimensions will depend on the user and the food being cooked. The saying "large and small double" is not very important in the choice of kitchen knife. If you use it in daily cooking, it is necessary to select a size that takes into consideration ease of handling and fatigue. About 180 mm for Santoku knives, 210 mm for beef knives, and 240 mm for willow knife knives are the most suitable sizes for home use, but it is necessary to select the size according to your body and kitchen size.
Obviously, it is also necessary to carefully observe whether there are any scratches, blade spills, cracks or dents. The manufacturer ships the product under strict quality control, and there are almost no problems, but during shipping or during store display, if another customer picks it up, hit the blade somewhere. In some cases, it has been exhausted. It is not a waste even considering the trouble of exchanging with a good product.
Also, when looking at the goodness of a kitchen knife, the most important thing to note is to make sure that the blade is not bent. No matter how sharp the knife may be, if the blade is bent, the workability is poor and the ingredients cannot be cut well.
Then, I will teach you how to see the bend of the knife. Please check your dominant eye first. See one point with both eyes. After that, look at the same thing with the right and left eyes in order. The dominant eye is when the difference between when viewed with both eyes and when viewed with one eye is small. Make sure that there is no bend when you hold the knife forward without holding your arm and look straight at the back of the handle and the back of the blade as you would see a standard gun.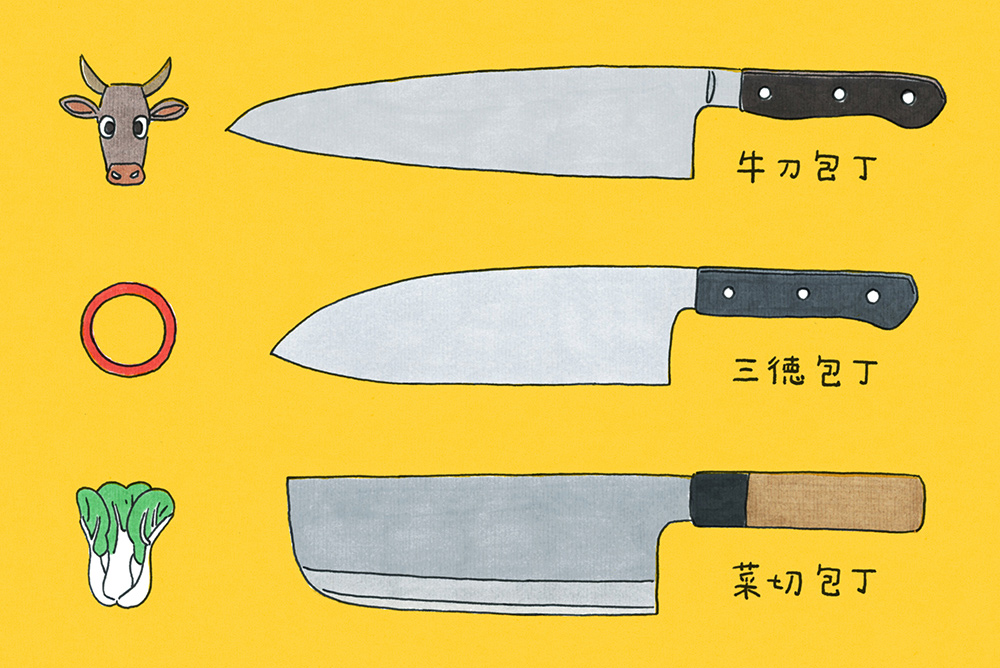 The most important thing is to find out which kitchen knife is best for you. Please remember the good view of kitchen knives so that you can interact with them.